Lions verrassen gasten Resto VanHarte
Sociaal restaurant Resto VanHarte onderhoudt de contacten met hun gasten, grotendeels ouderen, via een nieuwsbrief, belrondes, kookfilmpjes en acties zoals de 'Soep-challenge' en 'Ik kook VanHarte voor jou'.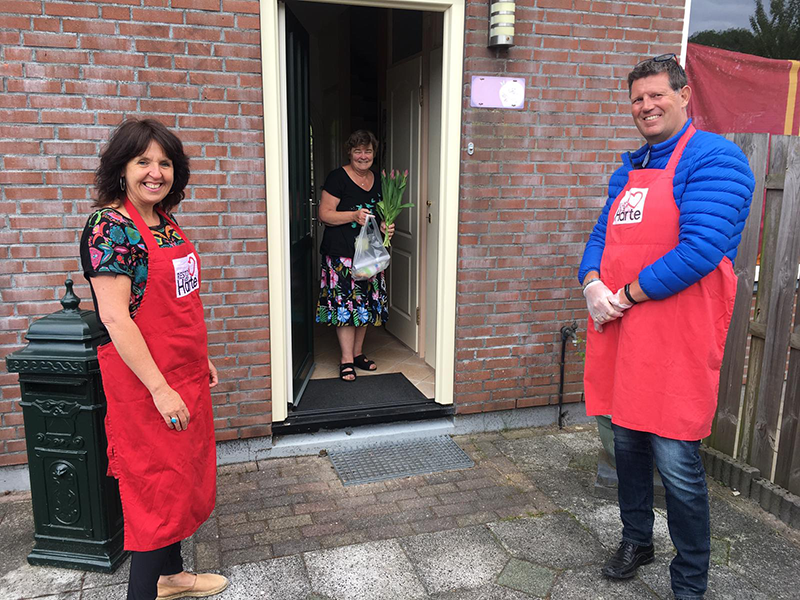 Min of meer 'verplicht' thuisblijven is niet leuk. Daarom bood de Lions hulp aan, een welkome onderbreking voor de doelgroep: op de Dag van de zorg stonden de Lions en de vrijwilligers van de Resto bij de vaste Resto-gasten op de stoep met een tasje met lekkers (gesponsord door Banketbakkerij Prins), de nieuwsbrief, een poster met beweegoefeningen (van leefstijlwijkcoaches van de Gezonde Wijkaanpak), een bidon, tulpen en een mooie foto. 'Fijn dat wij binnen Lelystad aan kunnen sluiten bij mooie maatschappelijke initiatieven', zegt Fred Kempers, president van Lions Lelystad. 'In deze samenleving moeten we het samen doen en het is mooi als wij nu voor deze groep mensen iets kunnen betekenen'.
De Lions verrasten ook Resto VanHarte Lelystad met een cheque van € 2.000,-. De Resto, volledig afhankelijk van fondsen en donaties, is ontzettend blij met dit mooie gebaar. 'Geweldig deze actie, wat kunnen wij ons nog meer wensen? Ook de beweegposter en bidon van de Gezonde Wijkaanpak komen goed van pas. We zijn erg blij met al deze steun.', zegt Manon Geerlings, Restomanager. Het restaurant is druk bezig te onderzoeken of en hoe zij per juni weer open kunnen. Dan zijn Lelystedelingen met een klein netwerk of kleine beurs weer welkom voor 3-gangendiner (€ 7,-) en voor gezelligheid.