Iets voor een ander betekenen
Iets voor een ander betekenen. Daar draait het om bij het vrijwilligerswerk bij Humanitas. Wij staan al sinds 1945 klaar voor iedereen die even wat hulp kan gebruiken. Afkomst, leeftijd of levensovertuiging spelen daarbij voor ons geen rol. Wat we wel belangrijk vinden: gelijkwaardigheid en het contact van mens tot mens.
We bieden veel soorten vrijwilligerswerk. Bijvoorbeeld als maatje voor iemand die eenzaam is of het overzicht op de geldzaken kwijt is. Maar je kunt ons ook helpen met fondsenwerving, social media of als coördinator of bestuurder. Als vrijwilliger help je een ander en draag je jouw steentje bij aan een mooiere samenleving. En zelf doe je nieuwe contacten op en leer je mensen kennen die je in je dagelijks leven misschien niet zo snel tegenkomt. Ook krijg je persoonlijke begeleiding van een coördinator en volg je voor je aan de slag gaat een of meerdere trainingen.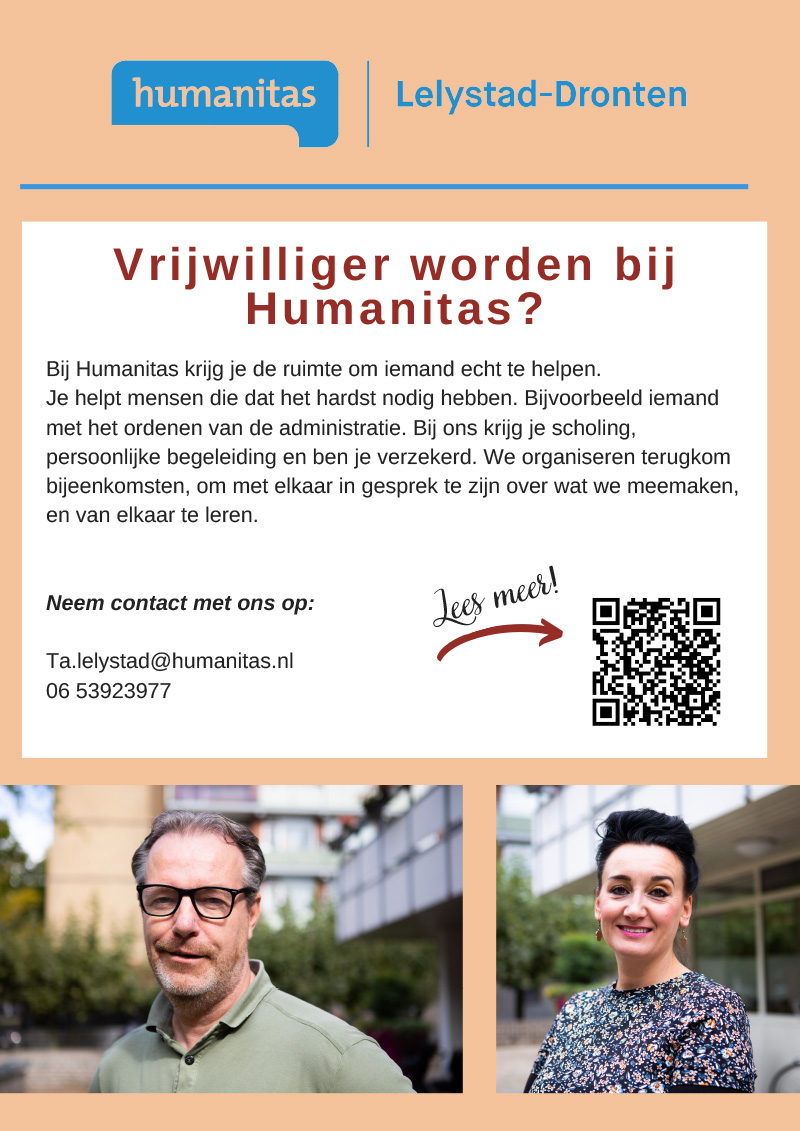 Vraag om hulp. Onze hulp is gratis!
Neem hiervoor contact op met Humanitas Lelystad/Dronten,T 06 53923977
E-mail: TA.lelystad@humanitas.nl.