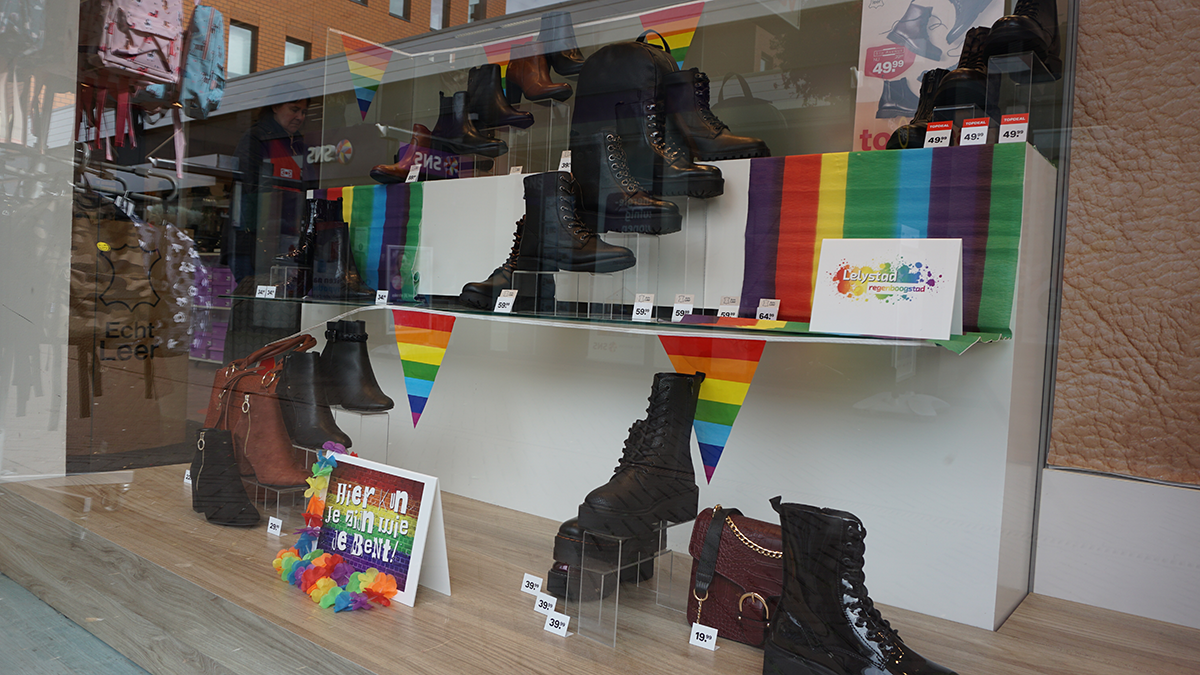 Lelystadse winkeliers laten zien: bij ons kun je zichtbaar jezelf zijn!
11 oktober 2020 is het weer Coming Out Dag. De dag waarop we vieren dat iedereen zichtbaar zichzelf mag zijn en ongelijke behandeling niet wordt geaccepteerd. De hele week, van 5 tot en met 11 oktober, is het daarom feest in Lelystad.
Alle winkeliers zijn uitgenodigd hun etalage te versieren in regenboogkleuren, met behulp van een volle regenboogtas van Bureau Gelijke Behandeling Flevoland. Kinderen kunnen hier een kleurplaat ophalen en deze ook weer inleveren voor een waardebon voor een heerlijk regenboogijsje van Billy's Ice Cream van 7 t/m 11 oktober. Ook kan er gespeurd worden langs alle etalages. Verzamel de slagzin en lever de oplossing in bij Bureau Gelijke Behandeling Flevoland, Zilverparkkade 16 (14:00-17:00 uur) voor een leuk regenboogcadeau. Je speurformulier kun je ook ophalen bij de winkels met een regenboogetalage.
Hiernaast bieden we natuurlijk nog andere activiteiten aan: op 6 oktober kun je naar de film van Filmtheater Lelystad in de Agora: Eté 85, op 9 oktober gaan we 's ochtends om 9:00 uur bij het ziekenhuis de regenboogvlag hijsen, met wethouder van Noort, en daarna bij het stadhuis. We staan buiten, dus dat is mooi coronaproof. Op 10 oktober is er een muzikaal feestje op de markt van Lelystad en 11 oktober, op Coming Out Dag, is de zevende Rozeviering waarmee we deze Coming Out week af zullen sluiten.
Jij bent er toch ook bij?! Kijk voor alle details op www.bureaugelijkebehandeling.nl of bel T. 0320-233 327 als je meer wilt weten. Hijs jij ook de regenboogvlag? Op 9 oktober of misschien gewoon de hele week? Mail dan je foto naar info@bureaugelijkebehandeling.nl of tag ons op Facebook. Tot volgende week!